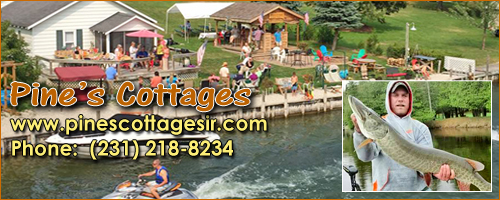 Burt Lake
Lake Preview for Burt Lake in northern Michigan.
---
Watch the "Fisherman's Digest" TV show.
Availably Locally and Nationally on these networks and times. Set your DVRs.
CBSSN - Saturdays at 7:30a.m. January-March
Fox Sports Ohio - Saturdays at 11:00a.m. January-June
Fox Sports Detroit - Sundays at 7:00a.m. January-June
NBC Chicago Sports Net PLUS - Mondays at 12:30p.m. January-June
---
| | |
| --- | --- |
| Indian River Michigan area fishing report | |
2-18-19
Burt Lake Walleyes are available the bite in 30 fow or deeper is Primarily a Tip-Up Bite mid morning and mid afternoon is best out deep for walleyes. Trout are still available in 10-12 fow off the points with tip-ups baited with Blues keep bait 8 inches to a foot off bottom but leave a long leader so the minnow can swim freely. The jig bite for walleyes is good in 15 fow or shallower right at dark and later Rapala jigging rap is a good choice of lure tipped with a minnow head. Mullet lake has perch available deadstick seems to be producing most of the fish in 45-50 fow. call Matt @ 231-203-4102 and website rockinreelinharters.com
2-4-19
Burt lake and mullet lakes have been an interesting last week. Burt lake has slowed a bit with the thicker ice conditions and weather we have had. you can still pick up walleyes in deeper water on tip ups. Trout are sweeping the points looking for bait fish 10 to 12 fow. Mullet is a run and gun situation for perch try 50-60 fow spending no more than 30-40 minutes in one spot then move one way or another but in the same me to find the active fish. Try buckshot spoons with perch minnows or tear drop and wax worm. Jig up a foot let it drop give it a quick one two pop then dead stick it for 15 seconds and repeat during the dead stick motion is when most strikes are happening and hold onto your rod as fish are aggressive on mullet.
call Matt @ 231-203-4102 and website rockinreelinharters.com
6-18-18
Indian River Bassin has been very good so far this summer. The bass are done spawning and headed to the edges. Walleye and perch fishing has been solid and should improve with the heat. Perch have been hitting live bait in the bays.
---