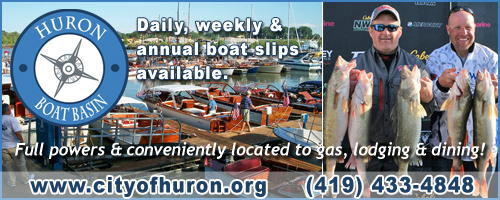 ---
Watch the "Fisherman's Digest" TV show.
Availably Locally and Nationally on these networks and times. Set your DVRs.
CBSSN - Saturdays at 7:30a.m. January-March
Fox Sports Ohio - Saturdays at 9:00a.m. January-June
Fox Sports Detroit - Sundays at 7:00a.m. January-June
NBC Chicago Sports Net PLUS - Mondays at 12:30p.m. January-June
---
1-1-19
Hello fellow fisherman. Well Christmas comes early and passes and it still feels like Christmas.
The lake is still wide open and fishing is nothing short of amazing from east of Kelly's island to Cleveland. Working 25 to 50ft of water has been best. Find the shad you will find the active walleye and then it's game on. Running two ounce guppy weights behind perfect tens and bandits 20 ft in front is the program with Offshore planer boards. Sets have been 20/20,20/30,20/40 and 20/50. Speed1.1 to 1.3.
Colors vary from day to day but orange,pink and white bellies with metallic and solid body's has been best.
Having soft water and catching giant walleye this time of year is a real treat. So if you want to catch some bonus time. Get out there and have some fun. Good luck. Captain Gary Zart. Blue Dolphin Charters.