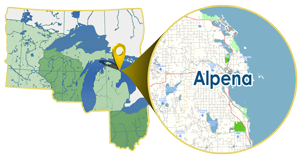 Alpena Area Fishing Report
November 11th, 2019
Fishing in and around the Alpena area remains consistent and not much has changed when talking about the report or tactics. Even though the weather changed dramatically.

Traditional fall casting techniques even in this winter wonderland have been producing limit catches over the past three weeks on Hubbard Lake for Walleye when people are able to get out in these freezing temps. While trolling is a proven tactic for targeting Walleye on Hubbard, casting allows you to maximize your efficiency once you have schools of fish located. Targeting primary depths of 13'-22' spots seem to be holding true while preferred depths very day to day.
Looking forward to the bite holding up until ice on.
Smallmouth bass were caught when casting Ned rigs, jigs, or crank baits in Squaw Bay. Looking/finding for areas with warm water and bait fish is the key to success.
When fishing out of Alpena on Lake Huron walleye fishing is still above average if you want to fight the weather. A good number of walleye could still be found near the mouth of the river when casting crank baits and jigs. This is the time of year when spear anglers start targeting whitefish as well.