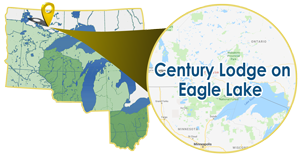 Century Lodge on Eagle Lake
May 9th, 2020
Start of season Update 5-10-20

Hey everyone! We hope that you're all weathering this health scare in good shape. I'm heading up to the lodge tomorrow, to get things opened up for our early season guests. We're monitoring the situation at the Canadian border and are praying for it to open around late May. For those of you who have cancelled Cruises or European vacations due to Covid-19, we have a great option for you. Spend a week with family or friends with us here at Century Lodge. A safe environment in the great outdoors awaits you. Walleye, Smallmouth Bass, N. Pike and the best Musky fishing in the world is all around our little island paradise, here on Eagle Lake, Ontario! Here's a few pictures from late May and early June, just to get you thinking. Give us a call and we'll take care of the rest. Be Safe, and God Bless
Randy Tyran and all the Family.