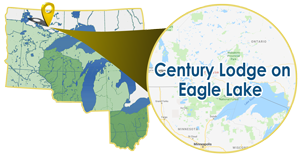 Century Lodge on Eagle Lake
July 8th, 2019
7-8-19
Just a quick update from Century Lodge. Big fish have been moving and caught despite the warm and sunny days. Many groups enjoying shore lunches and catching multi species throughout the week. Special offer!!!!! Last week of August book now and get 1 day of guide service absolutely free!!! $300 value! Hope you can take advantage of this awesome opportunity for my personal favorite time for trophy topwater Muskie!!!

Contact Randy or Rich at
Century Lodge
www.centurylodge.com
Summer phone: 807.938.6863
And don't forget that John Bergsma sent you!