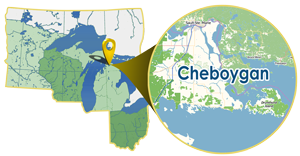 Cheboygan Michigan Area Fishing Report
October 12th, 2020
10-11-20 Cheboygan
Fished Mullet and Burt Lakes today. Came up short only catching 2 walleyes this morning on Mullett (using Glide baits) quitting early due to winds.
Went on Burt this afternoon picking up 8 fish jigging near the State Park. Had to work for the fish but they were dandy's. The Walleye were Full of perch. One was pushing 6 pounds. (Picture above)
Fishing on Mullett is still very good I just made a few wrong choices. If you want to go just give Bryan at: 2 B Caught charters and have a great experience.