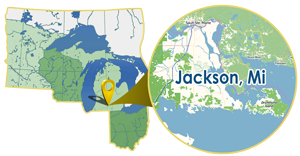 Jackson Area Fishing Report
October 21st, 2019
10/21/2019
The Jackson area has been on fire for those who are getting out. Limits of big Blue gills, monster pike, and huge bass are being caught all around Jackson.
Big bluegills have made there way out do the main basins of the lakes and the drop offs. In 12-14(drop offs) feet of water the best way to target these depths is a very simple presentation, either using a spring bobber or slip bobber with a cricket, leaf worm, wax worm or hair jigs as bait. In the main basin of the lake (20 + feet of water) using perch pounders of jigs have been the best when presenting them vertically. Tipping the jigs and rigs with wax worms.
Pike and bass are being caught in shallow water and weed edges still. When fishing the shallow water use any type of lure that represents a minnow/bait fish because that's what they are doing in tight to shore, they are feeding aggressively trying to fill up for winter months. When fishing the weed edges, using spinners and jerk baits are the best way to target these areas.