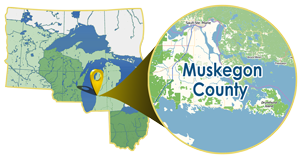 Muskegon County Area Fishing Report
December 6th, 2021
12-4-21 Muskegon
Jerad Derks sent me this awesome Muskegon lake report and pictures.
I have been finding my best fish by the Bear Lake Channel casting into the shallows off the drop off on the East side of the inlet spot locking. I have been using #12 husky jerks. Clown, and Black and silver have been the best colors for me. I cast 30 to 40 feet into 4 to 5 feet of water and reel it in slowly so the rapala will sink but not hit bottom. I will often give it a small twitch action and let it pause for 1 to 2 seconds. My retrieval is most likely 1 to 1.5 mph. Most strikes are coming off of the pause. Big fish have been caught. My personal best 11.07lb. Picture sent.
Trolling Rapala deep down husky jerks (DHJ12) inside the Muskegon channel by the Coast Guard station in 20 to 25 feet of water at 70 to 90 back at 1.2 mph has also been successful on nights where I can't find fish in the shallows.
The sand flats inside Muskegon Channel, 14 to 22 feet of water running them behind back behind the boat with 50 to 65 feet of line at 1.2 to 1.4 mph.
HJ#12 in shallow water casting/trolling. Clown, Black and silver, and Glass Purple Sunfire have been hot.
DHJ#12 in deeper water trolling 1.2 to 1.4.
Lately you have to keep a close eye on the waves. It can get choppy in a hurry so pick a night where you can keep trolling speeds constantly if you're not spot locking.

Hope this helps! Love the program! Keep up the good work and tight lines!