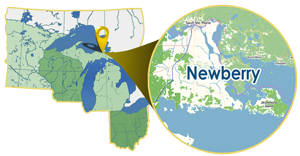 Newberry Area Fishing Report
October 28th, 2019
10/28/2019

When its comes to Fall fishing there is no better place than the Newberry area. The colors are absolutely stunning but are coming to an end as colder temps have arrived.
Out in front of the Two Hearted river pier and shore fisherman have been catch very good numbers of Steelhead and Menominne. The best way to catch these species is casting little cleos in blue, orange, and silver patterns.

The Two Hearted river coho salmon run picked up and shut down very fast after all the rain we have had, the river is very high and dirty right now.

Steelhead have also been caught in the system on beads and spawn but it will be about a week till the big fall run truly happens.

Walleye and Musky fishing has really picked up as the colder temps have moved into the area. Body baits for both species in bright colors have been the way to approach these fish.