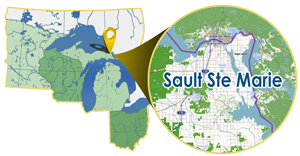 Sault Ste Marie Area Fishing Report
October 29th, 2019
10/28/2019

Fishing in Sault Saint Marie is still going strong.
Whitefish and Atlantic salmon behind the Edison power plant are giving up some good catches. Atlantics are still going on small Stinger spoons in chrome with pink and blue. Also casting small Little Cleos in chrome with blue or orange.

Whitefish are still taking the usual small flies either drifting them with a bobber or strike indicator.
As a bonus some nice steelhead are starting to show up also.
So even though the weather hasn't been the best , behind the power plant gives you a little break from the wind.