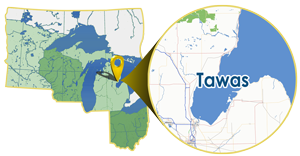 Tawas Area Fishing Report
October 14th, 2019
10/14/2019
Fishing out of Tawas area has been very good and consistent still, so do not put the boat away just yet! Walleye anglers did well out past Buoy #2 with spoons, body baits in natural color patterns, and Chartreuse, blue, or purple crawler harnesses tipped with a crawler or leech in 35 to 50 feet of water. The best speed has been 1.8-2.0 MPH. Not much has changed as of late but a good numbers of walleye were also caught near the boat launch when casting body baits or jigs tipped with plastics or minnows. Brighter colors when casting has been the key along with a slow retrieve.

Lake Trout fishing has still been good as well when trolling 70-80 ft of water using dodger with green and white spin n glows behind it. Moonshine spoons just 2-5 feet off bottom has been HOT. All glow or Purple carbon have been on fire. 1.9-2.2 mph has been the key when trying to get these Lake Trout to bite.

The Tawas river system had Chinook being caught at Gateway Park when casting body baits. Walleye were caught when casting those same body baits or still-fishing with small perch minnows.

The famous Au Sable river had some darker Chinook salmon and some fresh ones being caught by those drifting flies or casting spoons. The best spoon colors were blue/silver and orange/silver. Atlantic salmon were present but very slow to bite due to high winds and changing pressures. Anglers stripping and swinging streamers or casting crank baits caught decent smallmouth bass and the occasional northern pike in the holes and near the mouth of the river.