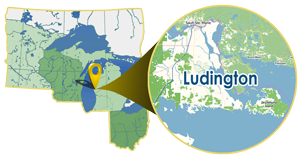 Ludington Michigan Area Fishing Report
May 23rd, 2019
5-22-19
We had another good day today fishing south of Ludington. We worked between 55 and 65 feet of water. Our hot rig today was a UV Mountain Dew Whirly Gig behind an 8″ Chrome and a Lake Trout Candy Spin Doctor on two of our wire divers. The Chrome Mountain Dew Whirly Gig was good too. Our wire divers fished on or near the bottom took most of our fish. We caught our first King of the season on a prototype Gold Super Slim on a 5 color core. We took two of our bigger Lakers on a 7.5 color core with a Super Slim Rasta Goose. Not much action on our riggers today.
Thanks to Capt George at Freestyle Charters for the great update
If you're looking for a fun time try any of the awesome captains from the Ludington area charter boat association!