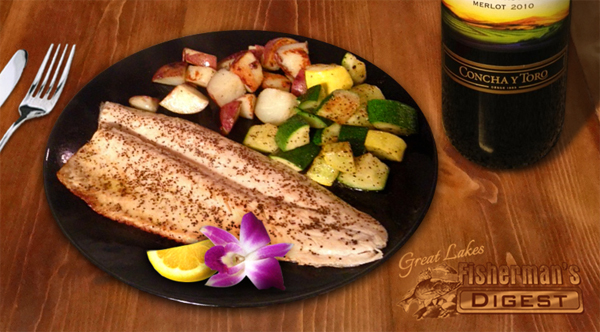 Great Lakes Fisherman's Digest
Great Lakes Fishing | Fishing TV Show | Travel Booth | Fishing Destinations
Recipe of the Month
Our Recipe of the Month will feature many of our great catches of the season. This new addition to our program lineup will add flair and flavor to our website and television show.

Check back soon for great bites!
"From our TV family to yours, we encourage you to go fishing and grab a bite!"
---

Watch the "Fisherman's Digest" TV show.
Available Locally and Nationally on these networks and times. Set your DVRs.
CBS Sports Network 7:30 am Saturday's (Q1)
Pursuit Channel 4:30 pm Saturday's (Q1-2)
Destination America 5:30 am Saturday's (Q2)
Comcast Sportsnet-Chicago 12:30 pm Monday's (Q1-4)
WMYD-20 Detroit/Suburbs 6:00 am Sunday's (Q1-4)
ABC-53 Lansing/Jackson 7:30 am Saturday's (Q1-4)
WOTV-4 Grand Rapids/Kalamazoo 7:30 am Saturday's (Q1-4)
Fox-32 Cadillac/Traverse City 6:00 am Sunday's (Q1-4)
Fox-6 Marquette 8:30 am Sunday's (Q1-4)
Also: YouTube, Amazon Prime, Roku, Sling, Facebook and our website www.fishermansdigest.com
Copyright © 2014 - 2021 Great Lakes Fisherman's Digest. All Rights Reserved.