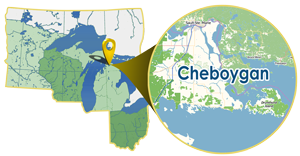 Cheboygan Michigan Area Fishing Report
February 5th, 2020
2/4/20

Our last report from the Cheboygan area came off of the very famous Burt lake but this week we are talking about its twin, Mullet lake.
Mullet Lake has been fishing very well for perch and walleye using tip up with perch minnows and blue shiners. Jigs such as jigging raps, do-jiggers, and slender spoons tipped with a minnow head have also been producing great numbers of big perch and walleye.
The best areas to target are main lake humps surrounded by deeper water, U or V shaped contours that lead into shallower water, or mud flats where you will find bait fish like small perch feeding on bugs or other little bait fish.