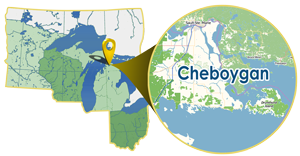 Cheboygan Michigan Area Fishing Report
October 14th, 2019
10/14/2019
Things are still going well in the Cheboygan area, more fresh King salmon moved in after the heavy rain, the fishing is hot and heavy. Kings were caught at the dam with spoons and crank baits or when drifting skein by shore anglers. Boat anglers were casting near the dam or trolling crank baits downriver. Some of the fish were dark but lower downstream is were the more fresh fish are.
Pike and smallmouth bass were also caught on crank baits near the mouth.

If you are looking for Juvenal Salmon and big steelhead still on Lake Huron they are there. Salmon were staging off Swan Bay but the adults have now pushed into streams/rivers but the juvenal fish are still hanging there. For the anglers getting out on the big water, early is when fishing was the best, the best bite has been right at sunrise. When trolling from the shoreline out to 50 feet of water a couple techniques have been used. In the shallows, anglers were running bombers with longer leads off planer boards and those out deeper were running Dreamweaver/Moonshine spoons, and Dreamweaver spin doctors with green flies or green squids. Hot colors were black, green, blue, purple or glow spoons early in the morning.

Mullet Lake has been fair to good. For those catching perch the best rigs have been a slip bobber and a minnow or crappie rigs with minnows for bait in anywhere from 10-25 feet of water, perch were also caught deeper in 30-40 feet of water. Smallmouth bass have been good on drop offs and rocky bottoms, using ned rigs and jigs.
Walleye fishing is starting to really come on strong when using deep diving husky jerks over flats in anywhere from 15-30 feet of water. Find the bait fish on these flats and walleye will not be far behind.