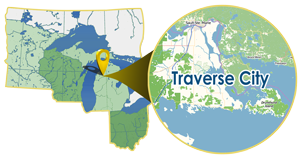 Traverse City Area Fishing Report
April 5th, 2021
4-4-21 Traverse City
Big lake fishing out of Frankfort was a success! Sure, water was still cold. 39 degrees. We fished from 40-55' took a couple on a 4 color lead with an orange chilly Willy. But our best rods were the mag slide divers with chrome green spin docs and chartreuse spin n glows. 75' behind the diver and 80' out. Seemed like there was a lot of dead water but once you found a pocket they were hungry. Lots of doubles and a triple. Good couple of hours.
Captain Dave Rommell from Tiny Bubbles charters knows the big lake and Crystal lake well. If you are looking for a great Frankfort based charter, Dave is your man!