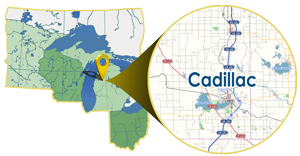 Cadillac Michigan Area Fishing Report
January 19th, 2022
1-17-22 Cadillac area
Hey John this is Heath. Here is a rundown of my first trip to Cadillac of 2022. We concentrated our efforts on Lake Mitchell this time. The tactic I always try to use on these lakes, or any lakes that get a lot of pressure put on them on first ice, is movement. If you have topographical map it makes life easier. I like to position myself on weed beds in 7'-12' of water. I will drill 5-6 holes in the area. using the flasher I will check the holes to see what the bottom looks like, weeds, no weeds, and depth. If I find no weeds in one but in a hole 10 yards a way I have weeds half way up the water column then that's my tip up hole. I've always had luck with tip ups on the edge of weed beds. For the panfish we used 4mm teardrop tungsten tipped with a red spike and a white spike the first day with some good success. The bite really turned on the second day for us when we switched to micro
spoon style lures like kastmasters, or a frostbite dinner bell. The real treat of the trip were the 2 walleye jigging in roughly 8ft in the evenings they hit our green colored solid tube from 99 strikes fishing. These lake are hit hard but if you put in the work you will have success and see that there is a health population of good sized fish.