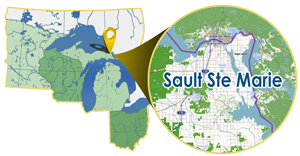 Sault Ste Marie Area Fishing Report
February 5th, 2020
Fish and ice report:

Walleye have been picky the last couple days. We marked a lot, but only the throwbacks and 15 inch fish are feeding. The water is still pretty clear which is probably contributing to their lack of activity.

The perch have been pretty active for this time of year. They are hanging around the islands and edge of the weed bed.

Pike have picked since the water cleared up. The birches were hot for pike this morning.

There's about 14 inches of ice and the top 5-7 inches is white ice. Mainly sleds, four wheelers, and side by sides going out. The snow and slush is frozen and hard packed and it's like riding over a plowed hayfield out there right now.

Calm weather forecasted for the next week so no major weather concerns.

Have fun, catch ya later!