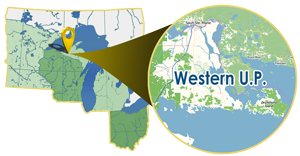 Western Upper Peninsula Area Fishing Report
October 14th, 2019
10/14/2019
Fishing in the western UP can be absolutely amazing this time of year.
Lake Gogebic fall report has improved. Shore anglers are reporting some nice catches of walleye using minnows. While others have had good success trolling stick baits over the mud. Good numbers of northern pike are also in the mix.
Anglers who are fishing out of boats are mainly working jig and minnow combos now or minnows below slip bobbers targeting walleye. Fish weed edges heavily as fish walleye and pike are putting the feed bag on as we are getting coolers nights and days.

There is so much that goes on fall time. For the fisherman who keep the boat out or for those who fish off the shore in fall can have very good days.The South shore of Lake Superior is loaded with rivers and streams that coho,browns,and other fish congregate around.The fish are 15-30 feet of water and usually surface to 15 feet down. Stick baits or spoons with inline weights will both work fine. Change baits often till you find what they like,color will vary even during the day so you might have 1 fish wonders so don't be shy about changing up. Don't put that boat away yet!